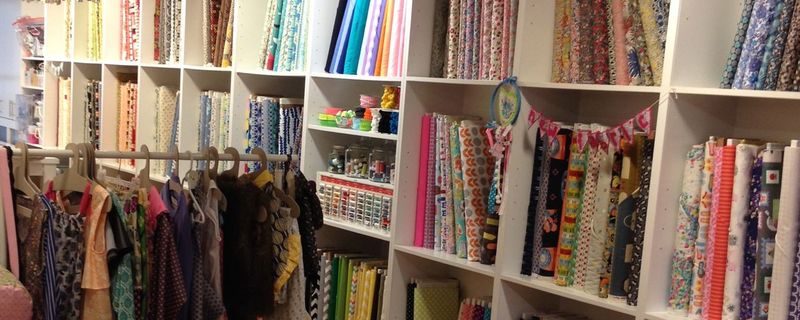 01
Jan
Fiber & Textile Adventures in New York - Part 1
It's always fun to check out whatever fabulous fiber and textile adventures are to be found where you live or are visiting.
Although I live out on Long Island, I am lucky enough to be only 60 miles from New York City. I am not able to get there as often as I would like, so when I do go I like to pack in all the fiber and textile events that I can. Here is the latest from my adventures early this week!
First, I managed to catch the Interwoven Globe exhibition before it closed at the Met:
You can read more about the exhibit here. No photos allowed, but here are a few images and some pattern sketches I made at the exhibit:
Now onto a few of my favorite stores! These are only a small sample of the joys to be found. I didn't even have time to venture into the Garment District or to Soho. Next time!
Tinsel Trading just moved from a large space to one a fraction of the size and I was at the new store for the first time:
They are now on 63rd and Lexington and fortunately still online. Unfortunately, in the new store they kept the pre-made ornaments and decorations that I don't really look at and took out the huge wall of amazing ribbons. So sad! They didn't even have the teeny tiny shell buttons that I love! I did find a few ribbons and some small vintage fabric covered buttons:
Hurray for discovering new fabric stores! Pins and Needles on the Upper East Side has been around for a few years but since I am hardly over in that area, I had not been there yet. Shame on me! Such a sweet little bright store:
And I found some treasures sure to be featured in later posts:
Just after I bought the Pom Pom Maker and left Pins and Needles I came across this in a window:
So much fun! There are sure to be some pom poms happening around here soon.
The City Quilter has been a long time favorite of mine. I brought my students from the Bronx here 6 and 7 years ago. They have a large store, especially for New York, and have the room to hold interesting lectures.
This time I was there choosing fabrics for samples of Little Smiles Bunnies from Sew Fun! I will be doing a mini workshop on the bunnies at the City Quilter on February 20. Please come if you are around!
One of my favorite yarn stores in the city is Lion Brand Yarn Studio.
They are not far from the City Quilter and the store is very user friendly, but my favorite part is the window. Check out this amazing yarn zodiac:
I would love to hear about the fiber and textile adventures near you!
---
Tagged: adventures,New York,fabric stores,quilts