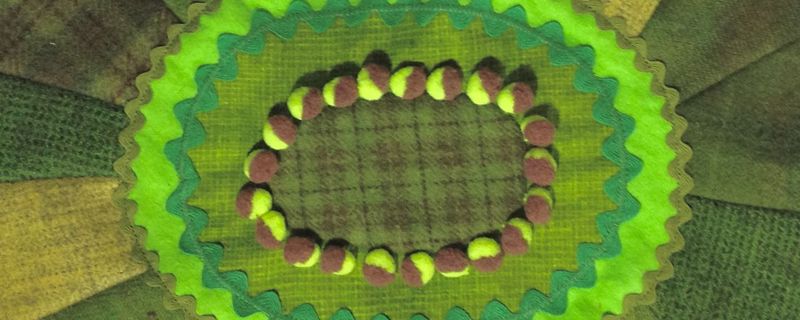 12
Dec
Morton the Turtle - Part 1
My first book, my first trip to Houston, my first Quilt Market! I love adventure! The divine Kelly D and I had a fabulous trip to Quilt Market at the end of October. One of the very first people we met on the convention floor was the smiling Kerry Goulder of Kid Giddy. Kerry was incredibly lovely, helpful and generous with wonderful advice. On top of all that she has a sweet new book, Sewing Tales!
I treated myself to a copy for Chanukah and knew immediately what I had to make first. Morton the Painted Turtle, of course! His shell is separate from his body so you can tuck him right in for a nap. Morton and I are kindred spirits.
First, fabric selection! Kerry has Morton in beautiful Amy Butler, but I knew as soon as I saw him that I needed to make Morton in textures. Wool, flannel, corduroy, trims and more. Morton's shell is his home and it's time to decorate.
I started in the center of Morton's shell with Mary Flanagan wool and 2 tone ball fringe (how fabulous is that!) from M & J Trimming:
Then I just kept adding. Flannel, rickrack, more flannel, and then more wonderful wool radiating out around the edge:
And here is the Turtle Shell and strip for the Shell Rim:
So, what do you think? Stay tuned for Morton the Turtle - Part 2!
---