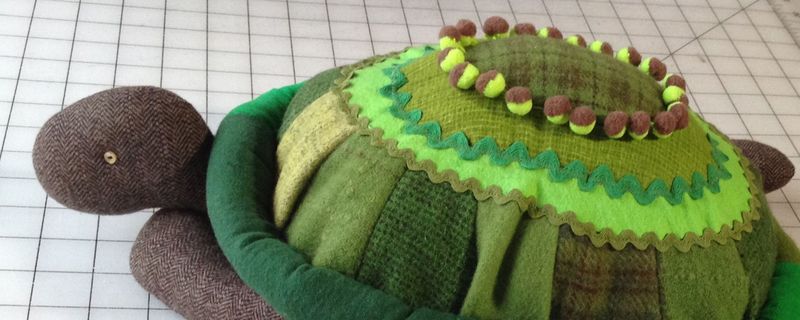 17
Dec
Morton the Turtle - Part 2
Oh, Morton and I have been having so much fun this week! First, I finished Morton's shell:
I stuffed the two center most ovals from behind to create more height. Why not? (As Hazelnut pointed out, Morton's shell could double as a mountain for the Over in the Meadow Landscape Rug in Sew Fun.)
Then, I made Morton's body. I used quilting cotton for the main body. For the appendages I chose a lovely wool I had left over from the Little Smiles Bunny from Sew Fun. I had bought a variety of wonderful wools and other textures for the bunnies at Mood. Since I only needed small amounts for the bunnies and Mood has a ½ yard minimum, I had lots leftover. Who knew this would come in handy for Morton!?:
Some tiny button eyes from Tinsel Trading:
And here he is:

I am thoroughly enjoying Morton keeping me company in the studio right now. And I just found out that Kid Giddy is having a contest of things made from Sewing Tales! (Honestly, completely coincidental.) Even though Morton is very humble and reserved I may just have to enter him into the contest. But first he needs a story. And maybe a friend. Yes, I think a friend. So stay tuned! The Morton saga continues...
---