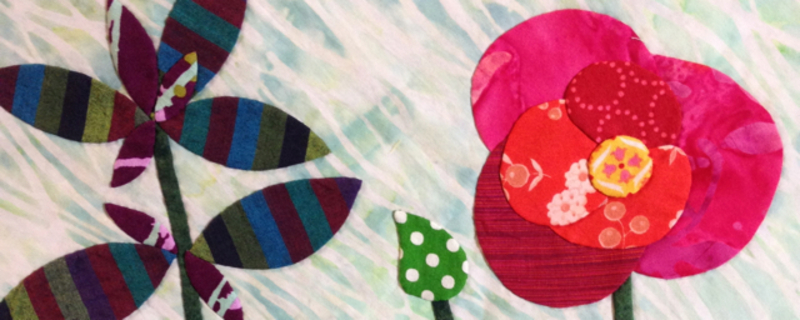 13
Feb
The Eighteen-Year Quilt
The Eighteen-Year Quilt is one of the sidebars in my book Sew Fun:20 Projects for the Whole Family.
The book shows a few of the blocks for Hazelnut's quilt, but I thought you might like to see how it is all coming together, as well as check out Bippy's quilt. Here is what I have so far for Hazelnut:
So Hazelnut is going to be 10 in April. You may notice that there are only 7 blocks here and those are not all finished. Yup. I am that far behind. I am hoping that announcing this publicly will help me get in gear.
Here is Bippy's:
I don't feel as far behind with Bippy's because in a rare spark of brilliance I actually started hers before she was born and was working on the first block, Hellebores, while I was in the hospital with her. Still, I only have 5 blocks and she is going to be 6 in April. And yes, ok, that last one only has one stem!
While I still love hand applique, I admit that I am getting a bit bored of it and am frustrated by the limitations. I started Hazelnut's quilt on her first birthday and of course my style and preferences have changed in 9 years. If I were starting the quilt now, it would be a very different quilt. But I suppose that's the idea- both quilts are evolving into a record of my interests. So I need to branch out and think beyond the blocks I already have.
First, I am going to diverge from my garden calendar theme. It is actually stressful to find a flower that blooms at the right spot in the timeline, that is growing in our garden, that is possible to reasonably render in applique. This should be fun! It's time to use my girl's drawings, imaginary flowers, or out of season plants just for the fun of it. Or do away with the botany and use animals or something else.
Second, I have a lovely list of books that I am poised to order for a little inspiration to re-energize my interest and try some different applique techniques. On my book list now:
The purist part of myself needs to let go of the "only hand applique" and let loose. I have a small bit of embroidery on the iris but I sense more is coming.
My tendency is towards a simple backstitch and french knots, but I would like to try some others. I may need these books:
Now that I think about it, I should probably get myself a whole selection of Aurifil floss. It would save my sanity since right now my floss looks like this:
I'm not kidding.
Aurifil floss comes on these lovely wooden spools. This one came in a giveaway sample pack I picked up at Quilt Market in Houston. So sweet!

I'll get these quilts back on track in no time! If not, I hear that 30 is the new 18...
---
Tagged: sewing with kids,Sew Fun,applique,embroidery,quilts