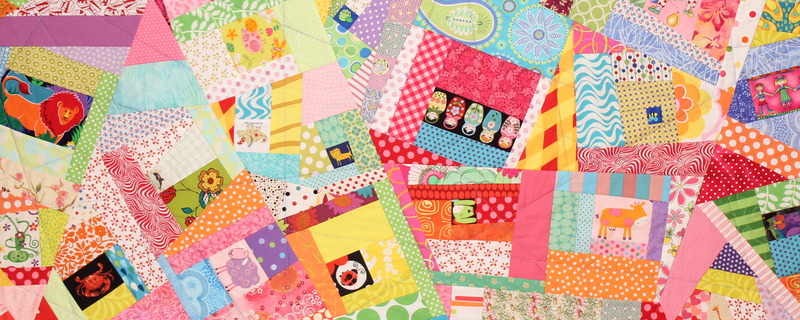 22
Oct
Welcome to the Blog!
Howdy! Thanks for stopping by! Let's get right to it.
So my little one, Bippy, just went off to kindergarten. Yes, I did. I did do the happy dance. She is a pip and loves me more than ice cream (her words) but she is super high energy and I need to get some work done.
Today I present to you the quilt that I sent with her to kindergarten for rest and reading time. This is the second quilt I have made for a kindergartener off to see the world. My older daughter, Hazelnut, and I made one 4 years ago when she went off to kindergarten. You can see a version of that quilt in my book Sew Fun: 20 Projects for the Whole Family. The quilt in Sew Fun is a crazy log cabin with fussy cut animal centers from one fabric and a piano key border.
For Bippy's quilt we kept the fussy cut animal centers but mixed it up with animals from many different fabrics and made the whole quilt a crazy quilt. Bippy helped pick the animals and scraps and she chose the backing of cozy flannel with some sparkly stripes that is just her style. The quilt may be small but let me say it was not so easy. More than a few not nice words came out of my mouth when I was working on the quilt by myself. We started with the animals and added scraps around them like this:
That was fun but how to put them all together with no inset seams? I did a few but there was too much cursing, so I added the rest in askew rows. There are more long straight seams than I would like but that's the way it goes sometimes. Clock was ticking. First day of school was fast approaching:
And here it is. Bippy was thrilled and continues to discover new animals that I snuck in. I quilted it in long straight rows criss crossing the whole quilt, sometimes following the seams and sometimes not. I actually used transfer paper to draw the lines to follow. I have never marked on the right side of a quilt before so it was good to try. Next time I need to try some kind of pencil. What is your favorite marking tool? Yay for new things!
---
Tagged: quilts,kindergarten,sewing with kids,crazy quilts,fussy cutting